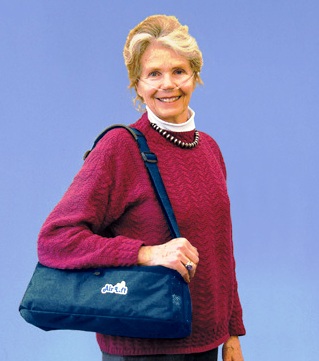 FANNY PACK CONVERTS TO COMFORTABLE SHOULDER BAG
.
Travel-Air T-9 System
8 Hours - 5 Pounds
Easy to carry - Excellent duration times!
,
,,,
Travel-Air T-9 System with Convertible Fanny Pack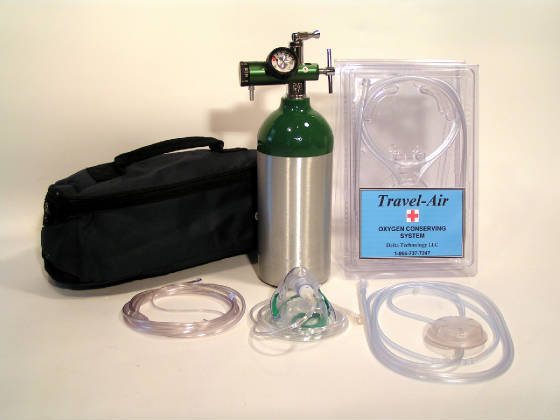 9 cu.ft. aluminum cylinder - 255 liters - delivered empty.

12 position regulator with contents gauge (0 to 15 lpm)

Oxy-Plus oxygen conserving cannula.

Standard oxygen mask.

Fanny pack/shoulder bag with hand grip.

Instructions and safety tips

$325.00 plus $25 S&H

Ships within 1 business day.

Travel-Air T-9 System with Shoulder Bag

Choose black or green shoulder bag with or without logo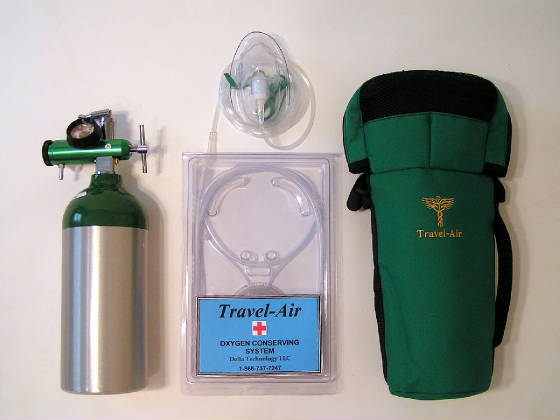 T9-SB with Padded Shoulder Bag and Instructional DVD
The Advantages of Travel-Air Systems:
More freedom - 8 Hours of oxygen, only 5 pounds -
Provides oxygen ambulatory patients greater freedom and independence.
Oxy-Plus conserving cannula gives up to 4 times longer service than other systems.
This is at a supply rate of 2 lpm.

Precise controls for your different requirements -
The regulator controls oxygen flow more precisely at lower rates and delivers higher flow rates for increased physical activity or a medical emergency.
,
Greater comfort
Increased humidification lessens nasal irritation and dryness and increases comfort.
Regulator controls and connections are designed for easy operation.
Carry in a comfortable fanny pack or convert to padded shoulder bag.
Easy to operate
Travel-Air is simple to use! No batteries required. For those who wish to learn more about using an oxygen system, we offer an excellent training DVD produced for our customers exclusively by Medic First Aid International Inc.

Buy with confidence. Travel-Air systems come with a 2 year replacement parts warranty. We offer customer support and technical assistance through our toll free number 1-866-737-7247. All Travel-Air Systems meet or exceed FDA requirements for portable emergency oxygen.