FANNY PACK EASILY CONVERTS TO SHOULDER BAG

Travel-Air T-6 System
With Convertible Fanny Pack/Shoulder Bag
Lasts 5 Hours - Weighs only 4 Pounds

No tools required - Simple to operate!
xxxx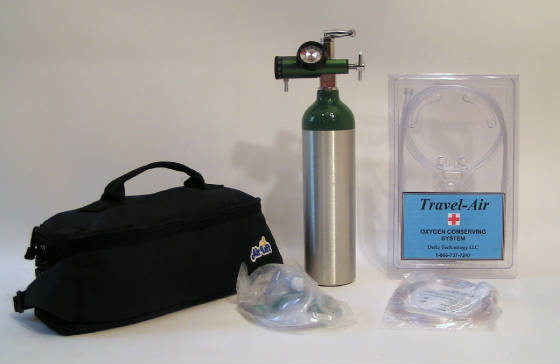 Aluminum refillable cylinder (15") -170 liters, 6 cu.ft

Cylinder delivered empty.

12 position regulator with contents gauge (0 to 15 lpm)

Oxy-Plus oxygen conserving cannula.

Standard oxygen mask.

Fanny pack/shoulder bag with hand grip.

Instructions and safety tips
$275.00 plus $25 S&H within the Continental US
Ships within one business day.